Cheap PKNIC Prepaid Card
PKNIC prepaid card is actually a special type of pin with numeric code that is being used for recharging .pk (Pakistani domain) domain panel. With this credit one can register or renew any of Pakistani domain name including .pk, .com.pk, .edu.pk, .gov.pk, .gop.pk est. Islamabad Web hosting is one of the top reseller of PKNIC. IWH is providing very cheap rate and low price PKNIC Prepaid Cards. You can get PKNIC Cards from us in any quantity, more the quantity will give you maximum discount. Our prices are more negotiable for PKNIC Prepaid Card bulk orders so despite getting your pk domains registered through a third party, top up your own PK account balance and utilize it for registering and renewing your as well as your own customers PK web names.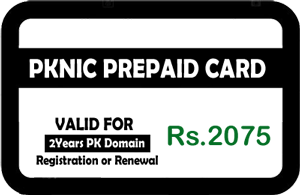 If you have registered your .pk domain with any domain registration company in Pakistan and now you want to renew your domain and your domain vender demands extra money for it, then don't worry, here we tell you that you can renew your Pakistani domain by yourself. You need not to ask them to renew your domain simply buy PKNIC Prepaid Cards from us and renew your domain yourself or may ask us to renew that. This practice will ease your burden of depending on others and allow you to manage all your Pakistan based extensions yourself under a single control panel.
PKNIC card can used for registering or renewing any ccTLD domain that is being offered by PKNIC registry. Wanna buy cheap PKNIC card in Islamabad, then get it from us, our prices get lower as quantity increase, you can get more discount with our bulk PKNIC card plans. Why we are selling in lowest price because we are award winner SRS Golden tiered PK registry reseller. You are always free to ask if you have any queries regarding the rates and usage of these cards.