Cheap best hosting in Islamabad
Web hosting is one of the basic need of any individual or entrepreneurship who want to be live over internet for fetching internet audience toward their website. Even though we are providing affordable shared hosting in Islamabad with guaranteed industry expert support, our Basic hosting plan just charge 1899/- PKR for one year with a free domain name and with all important features that are being expect by any hosting seeker. Our basic hosting plan comes with 1 GB disk space, 25 GB monthly bandwidth, 10 email accounts and 1 MySQL or MSSQL. We likewise providing wordpress hosting in Pakistan, You may get WordPress, Open Cart, Joomla, Drupal and Magneto hosting from us. We are delivering satisfaction, our 24x7 Support through Email/Instant Message System provide best pre sale and after sales services. State of the art hosting infrastructure provide you top notch web hosting in Islamabad with 99.99% uptime guaranteed.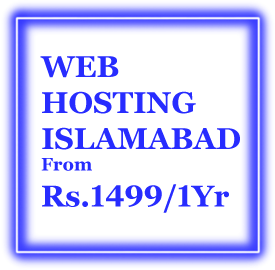 We are providing free hosting management system, you can control your windows hosting or Linux hosting with Plesk panel and cPanel. With all that you will manage your web hosted files with proper manner. Our hosting infrastructure equipped with latest technology and features valuable.
Choose a Package, Price is same for Linux and Windows Server
Basic Plan
1GB
25GB

Free Setup

10
0
01 MySQL Database

Free Setup
Standard Plan
5GB
60GB

Free Setup

75
0
1 MSSQL & 3 MySql

Free Setup
Premium Plan
10
100GB

Free Setup

100
1
2 MSSQL & 4 MySql

Free Setup
Ultimate Plan
300
Unlimited

Free Setup

Unlimited
4
3 MSSQL & 8 MySql

Free Setup
Top web hosting company in Pakistan
Islamabad web hosting, a trust-able name for having discounted, secure and perfect hosting packages in Pakistan capital city Islamabad. Working since 2007 and have more than 6000 clients. Our Physical servers located in top data centers of the world, you may chose Canadian or US servers, we will give guarantee that with these servers you will never face even a second of down time. When you talks about OS concern with our servers, we are dealing with both the Linux base hosting plans and Window based web hosting plans. So its depends on your website developed if you have PHP, HTML and in any CMS tool then LINUX based shared Hosting server is suitable for your website but if you developed your website in PHP, HTML and .NET frame works then Windows based Website Hosting is very suitable for your website./
Affordable Linux web hosting Pakistan
Looking for cheap Linux hosting in Islamabad, Pakistan? Here you will get what you are looking for. Normally, if you are developing your web site in any CMS, PHP, or html then you are in need of Linux web hosting. IWH providing cheap Linux hosting services in all big cities of Pakistan including Lahore, Karachi, Islamabad, Peshawar, Quetta.
Affordable Windows web Hosting Pakistan
if you developed your website in HTML and .NET frame works then Windows based Website Hosting is very suitable for your website. Our aim is to satisfy our consumers concern with Shared Web Hosting services in Pakistan it's not concern that what os you are choosing for your hosting needs, either you are looking Linux hosting or windows web hosting in Pakistan, you may get cheap hosting in Pakistan from us.
Shared Hosting With Cutting Edge Infrastructure
We always committed that we are able to deliver, but you will get all features that you are expected from a top web host in Pakistan.

Your Website Faster
Sustainable, liberal facilitate change movements outcomes Millennium Development Goals.

SSD Drives
John Lennon, involvement Gandhi, working alongside cornerstone. Arab Spring; honesty save lives think.

Highest Data Security
Respond our grantees and partners, youth, fight against malnutrition experience in the field detection.